</p>

This will be a list
Or a table
of latest posts
or related posts
visible on almost every page
but for now, Twitter
Omar Daniel Morrison
Managing Director and Lead Programmer
"One man cannot hope to change the world, but he can set the gears in motion"
Who I Am:
lead programmer and CEO of Creative Genius. I have been designing games since I was a child, and became a programmer so that I could make real my ideas and reach a wider audience then little card games or board games could ever hope to do. I founded the company with the hopes of creating something truly spectacular, that would reach out and inspire as many people as possible with the most powerful media tool there is, video games.
Games That Inspired Me:
Many games have inspired me, both stimulating and challenging my mind to do something better. If I was to narrow it down to just three, I would have to pick Silent Bomber, a playstation 1 game that for me, revolutionised action adventure games as something entirely different for its time. Fable 1, for it's scope and unique approach to decision and moral orientated story and game development, and for the freedom it gives the player, and of course, Final Fantasy, specifically Final Fantasy 8, that both told a story, and created a universe so mesmerising, that I could honestly say that it influenced the direction of my life from that point, and opened up my mind to the possibility of gaming.
My Favourite Games:
I am a big fan of strategy games and any that make you think, though I love an epic story, or a game that successfully explores ways to give the player freedom but still gives a structured environment and direction in the tale it is telling. As it stands, my three favourite games right now have to be Skyrim, though it is hard to pick it over Oblivion, but hunting dragons is just so much more fun than randomly finding Oblivion gates. Call of Duty, not my example of a great game, but the action and excitement of online gameplay, with the possibility to not just play well, but play strategically really gets me, especially when you can work with a team to accomplish this to is max, but ultimately XCOM enemy unknown would be my favourite right now, it does things that I have been trying to do with my own concepts for years, and even more, and has given me new perspective on some of them where otherwise there were not many places to draw inspiration from.
You can check out more of my favourite games and other thoughts on the industry in general on the "Creative World" section under Gamers' Advocate
Creative Ambition:
As which goes in hand with the edict of the company, I am not too focussed on any one type of game, though I do personally lead towards strategy based games and those with truly compelling and mostly unpredictable stories. I'd also like to see our games cross boundaries and categorisations, to have their cake and eat it too, in the sense that I don't want to compromise one good idea for another, but see how various and often conflicting sentiments can work together, but overall it comes down to this, any game we make, must be creative, it must be original, and it must be fun, but above any of those, it should give the gamer what they want, more than what sells best.
Creative Roles: (Portfolio)
As the founding Director, I have worked hard to get Creative Genius off of the ground, but a lot of my work is still concentrated in the digital world. Our start-up projects, "Silent Symphony", "Starlight" and "United They Stand" our all projects in which I had a number of roles to play:
For Starlight, writing up the "Wish upon a star" chant was a fun challenge, playing with various melodies and nursery rhymes until one fitted…
"Star light, star bright,
I wish I may, I wish I might,
Always stay within my sight,
To give me the strength to face the night"
Similarly, coming up with tag lines for games like Starlight's "Before one can be Brave, they must first be afraid" and Silenty Symphony's "When the world is your canvas, make music your brush" is a fun challenge, trying to capture what exactly the game represents in a single line.
For many of the tech demos and smaller projects I have to make the art assets, usually meant to be place holders until the actual projects are started and the real art assets are put together (using my examples and guidelines) by the Art Director Clarke and character artist David.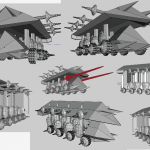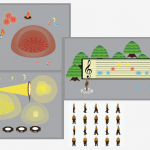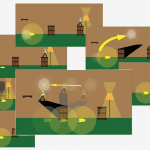 Genius Roles:
As the lead programer and originally a mechanics programmer anyway, I've made a bunch of different features on different platforms and in different languages. Mostly A.I but also some other features too from lighting and darkness affects, to various maps and control systems.
Path Optimizer
My Programming Show Reel
In addition to making and programming many of the games and features, I also put together the promotional and sample videos, displaying gameplay or doing trailers to music, creating temporary art for the videos until the real trailer is ready. These often help tell the story of the game and make explaining it to others easier.
Starlight – Precarious Objects Demo

Starlight Story Trailer
Original Silent Symphony Trailer

I enjoy mixing it up and taking advantage of my Jack-of-all-trades persona, but I do not fool myself into thinking that I could replace the valued members of my team, whether it is Mohammed's detailed game designs, or Clarke's magnificent art, my focus is and will remain with the maintenance of the company, and the programming for as much as my Creative yet perfectionist mind allows.